See Frontline Productivity and
Quality Surge
Digitalize your critical frontline production processes and inspect-to-fix workflows for quality and equipment maintenance. On-the-spot information, guidance and assistance make it easy, intuitive and accessible on any mobile device.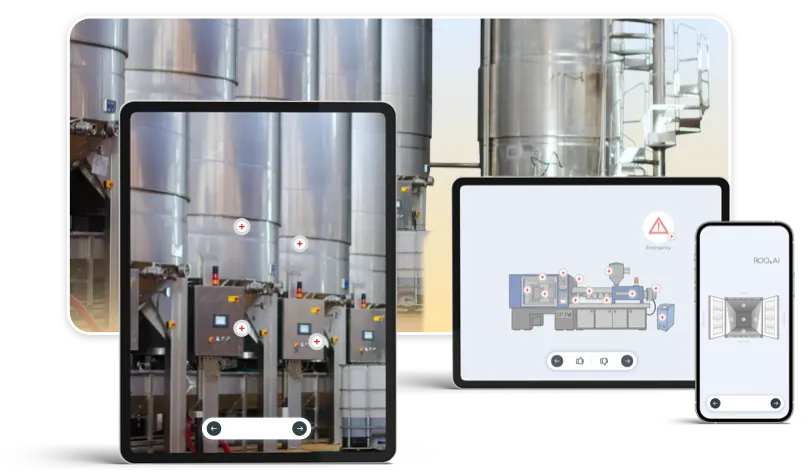 Breakthrough To Frontline Digital Automation
You're seeing experienced workers leave and competition for the skilled workers you need is fierce. And paper SOPs and checklists aren't helping deliver the results you need. Breakthrough to a next generation approach that shows workers exactly what they need to do, when they need to do it, and embeds micro-training and automations to boost productivity.
Onboard more quickly
Deliver clear instruction, in context and at the point of need. Connect team members and enable remote assistance.
Upskill workers
In process guidance based on worker experience, actions or data collected. Smart workflows and Bots assist workers to be more productive.
Shorten Cycle Time
Digitalize your frontline with intuitive workflows on mobile devices to ensure critical setup and inspect to fix processes are done more quickly and accurately.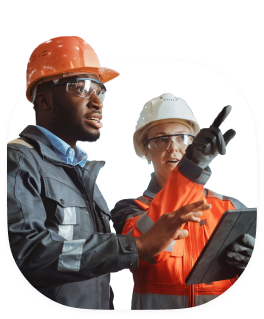 The
ROO.AI

Platform

As companies in make-to-order manufacturing, energy and transportation modernize operations they are seeing an increased need to manage more complex processes across production, quality and equipment maintenance, while also dealing with skills attrition and labor shortages. Blocking modernization is the continued use of paper to standardize process and capture data, but just replacing paper with a digital form is not the solution. ROO.AI offers a purpose built platform based on a breakthrough visual experience that has been proven in use by tens of thousands of workers in hundreds of companies.
Engage
Frontline Optimized Experience
Mobile Native Apps
Go Anywhere, Anytime
Guide
Work Visualization
Smart Components
Flexible, DIgital Workflow
Upskill
On the spot, in the process
Rich multi-media content
Assistance and shared knowledge
Assist
Data-driven workflow
RooBOTS attended automation
Alerts, notifications, tasks
Collect
In-Process Collection
Mobile Native Interfaces
Extend and Integrate Systems
Respond
Defect Management
Work Orders
Planned Maintenance
Understand
On Floor Access
Instant Visibility
Customizable KPI & Dashboards

Frontline Optimized Experience
Fully visual, super intuitive, with no training needed. Easy to use with Tap-n-Go controls, voice command, voice to text, video and images
Mobile Native Apps
Optimized performance for every device, seamless access to native functionality, comprehensive leverage of all built-in security
Go Anywhere, Anytime
Full access to mobile connectivity features for WiFi and cellular data, plus offline capable modes with automated sync up

Work Visualization
A technology breakthrough enables ROO.AI to transform any image into a user interface. People process and understand visuals 63,000 times faster than text.
Smart Components
Unlike 1st generation mobile apps, ROO.AI dynamically embeds Smart logic to guide workers and enables easy input or scan of data inline with instructions
Flexible, DIgital Workflow
Map any workflow to visualizations, or add any combination of digital forms, checklists or instructional components including images, text, video and voice commands

On the spot, in the process
Embed micro-training into any inspection, checklist or work instruction with personalized access based on need, training or experience
Rich multi-media content
Boost training effectiveness with rich media training including images, video and voice. Add in annotations for further clarity and accuracy
Assistance and shared knowledge
Empower workers to easily reach out to team members or remote assistance, share insights and recommendation for improvements

Data-driven workflow
First of its kind Work Instruction Services Engine (WISE) dynamically delivers workflow based on data inputs or actions with smart logic, branching and work chaining
RooBOTS attended automation
Automatically present workers with the info and instruction they need. Understand, score, rate and rank inputs. Calculate, process and package data for other systems.
Alerts, notifications, tasks
Empower workers to create and assign tasks as needed by results of inspections or work processes, keep on track with issue alerts and work notifications

In-Process Collection
Smart interfaces allow for easy data collection regardless of format - visuals, forms, work instructions or checklists. No switching between apps
Mobile Native Interfaces
Easily and simply collect data using the full capabilities of mobile devices for input, voice to text, scanning and IoT interfaces
Extend and Integrate Systems
ROO.AI's open API enables the use of data from other systems to drive workflows, and RooBOT automations can process and package collected data to be easily transferred to any systems with published APIs.

Defect Management
Easily track issues from inspections and workflows, and enable your frontline to respond on the spot to acknowledge, fix or verify fix to speed up issue resolution.
Work Orders
Quickly convert issues into work orders for internal teams or 3rd party repair services, including estimate approvals. Capture labor time and costs, parts and fees to provide complete visibility.
Planned Maintenance
Improve OOE and manage costs. Standard or customized maintenance programs can be quickly created and assigned to locations, teams or individuals.

On Floor Access
Easy mobile access to completed inspections and workflows. Issue management, work orders, documents and detailed data on assets easily accessible
Instant Visibility
Gain immediate operational visibility with instant access to completed workflows, views into status, notifications of incomplete or missing actions
Customizable KPI & Dashboards
Track the KPIs that matter most to your business. Any data, action, inputs or processes can be captured and reported through customizable dashboards and reports
ROO.AI Platform Benefits
Workforce
Easier access to training
Faster skills ramp up
Guided through workflows
Automate data tasks
Improve team collaboration
Better work experience
Management
Onboard more quickly
Increase productivity
Improve quality
Build job flexibility
Gain operational visibility
Drive continuous improvement
Why ROO.AI
Frontline
Optimized
Designed for zero training, easy use with fully visual workflows, tap and go inputs, voice commands and online or offline operation.
Smart Automation and
BOTS
Boost skills and productivity with personalized instruction, input-driven workflows and BOTS that actively assist workers while processing and routing data.
Concierge
Service
Get a fully customized solution tuned to your business without the need for IT. Use your time to run the business, not learn the software.